Prepare For The Evolution.
Introducing a new Chamber membership structure that lets you choose the level of engagement and support that best serves your business needs.
LEARN MORE
The Chamber is evolving. Here's why.
The New Membership Structure
Which category is right for your business?
How your online customer experience will change
Transition Timeline & What To Expect
We plan on launching the new membership model in October of 2023. Here's what that will mean for you.
If you are currently a Chamber member, you will transfer over to the new membership framework when your membership comes up for renewal.
We will be in touch with you prior to your renewal date to discuss your options.
You will have the opportunity to meet with the Chamber team 1:1 or come along to a group forum to learn more about the new structure to help inform your choice on which category is right for your business.
New to the Chamber? Simply choose the level of membership from our new categories that best suits your business needs. If you are unsure, please contact us.
We're happy to help you find the perfect fit.
Would you like to opt-in to the new model before your renewal date?
Your Membership. Your Choice.
Our new membership levels give you the opportunity to choose the level of investment and engagement that best suits your business needs. Plus, you can customise your membership with modules of specific services including: HR Advice, HR Assist, Manufacturing, and Global Trade.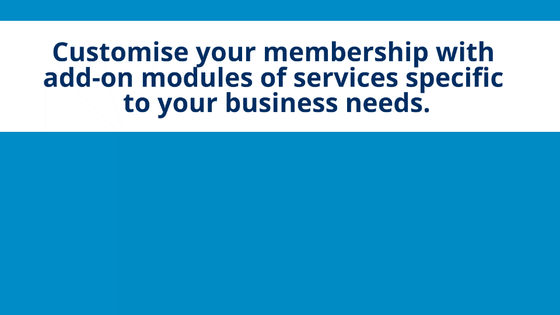 Our New Membership Categories
All pricing is based on a 12-month commitment that can be paid all at once or on a monthly basis.

LITE - $0
If you are not currently a member of The Chamber, and are keen to learn more, consider subscribing to Lite to give you a taste of what our members experience. Lite subscribers receive regular email updates from The Chamber, are able to view our member directory, and have the opportunity to network with members at our "New Member" events.
Need a more customised solution?
Our add-on modules offer tailored services for specific business needs.
Here's what the early adopters are saying.

Really good for a smaller company like ours that can tailor to specific needs and lean on the expertise we require.


I like the different models to suit and support the growth and maturity of my company.


The fit-for-you sectoring is an improvement to one-model-for-all.


The new model will launch in October 2023.
After the new model launches in October 2023, your membership will transition to the new category that best suits your needs at your next renewal date. We will touch base with you 4-6 weeks before your renewal to discuss your options and help you determine which category is right for you and your business. If you would like to move to the new model before your renewal date, that's great! Just give us a call at 0800 50 50 96 or email our membership team.
There are three significant changes to the membership model.
New categories and add-ons that are member-centric, enabling you to choose which options suit you best.

New opportunities within the new model such as assessment tools, resources, profile opportunities etc. that are designed to provide you with additional value.

New technology and digital tools will enable us to provide you with a much more proactive, personalised customer experience.
No. Pricing is based on a 12-month membership subscription that can be paid in one lump sum or be spread out over 12 monthly payments. We are upgrading our payment system to provide you with a convenient way to pay for your membership online and over time.
The new model is designed to ensure there is something for everyone and that benefits align with your stage of business and give you access to services that are specific to your needs. This new model is tiered which means not all categories will have access to the same benefits, but it does offer flexibility to add on services if you find you need something that is not offered at the level you have selected. We encourage you to explore the categories and reach out to our team if you have any questions.
We encourage you to explore our membership options and see what best aligns with your needs. Our team are happy to have a chat with you to discover the right membership category for you and your organisation.
We are launching a new card payment platform that will make your payments and annual renewals a seamless experience. You will soon have the choice of which payment method and frequency best suits your organisation.
Other Changes at The Chamber
Just as The Chamber is shifting its membership model to better meet member needs now and into the future, we are also proposing changes to our governance structure to ensure we have the right governance skills, experience, diversity and representation to support the future direction of our organisation through and beyond our transformation.

Other than some minor changes from time to time, our current Constitution has remained largely unchanged for the last twenty years. To also ensure we bring our Constitution up-to-date with the new Incorporated Societies Act 2022 alongside modernising the document and reflecting the proposed changes to our Governance structure, the proposed changes will ensure that:
The organisation, its governance structure and operation will be aligned with best governance practice
It is fit for purpose for the changing nature of the organisation and the future
We will have the ability to maximise the skills, experience, diversity and member representation
The Board is best-suited to support the CEO and executive in creating the future for The Chamber
Here is a high level view of the proposed governance changes for members to consider in advance of The Chamber's Annual General Meeting in October.
The size of the Board
The make-up of the Board with a mix of member elected and appointed Board Members
Appointments will be based on current skills and requirements best suited to the organisation's strategy and needs
Tenure of Board Member roles
The appointment and tenure of the Chairperson
General modernisation of the constitution to take into account the changes in our membership categories and the way we operate.
Members will have the opportunity to vote on the proposed changes to Constitution at The Chamber's Annual General Meeting 12 October 2023 and a copy of the proposed draft revised Constitution will be sent to all Members with the Notice of the Annual General Meeting.
What else would you like to know?
Want to learn more? Please get in touch.